Cable-Tec manufacture a wide range of universal HP cables which can be used as throttle cables or for applications in latches, choke, engine stop, or fuel shut-off.
For a technical specification of the universal hp cables we manufacture, please see below:
Light Duty: exposed Solid Core or 1 x 7 HP Core
HP Core: choose for best flexibility, lower backlash and higher efficiency. Polymer coated 1 x 7 wire rope. Solid Core: .075 solid stainless steel core.
Applications:
Throttle, choke, engine stop, fuel shut-off, latches
Temperature Range:
-65 to +225°F / -54 to +107°C Std. -65 to +300°F / -54 to +149°C Std.
Wide Variety of Handles & Knobs
Rugged phenolic material   
| | | | |
| --- | --- | --- | --- |
| Base Part # | Colour | Legend ID | Thread Size |
| 30024-0 | Black | 01 (Blank) | 1 |
| 30088-1 | Black | 01 (Blank) | 1 |
| 30024-3 | Red | 01 (Blank) | 1 |
| 30162-0 | Red | 06 (PTO) | 1 |
| 30387-1 | Black | 01 (Blank) | 1 |
| 30387-2 | Red | 01 (Blank) | 1 |
| 30412-0 | Black | 01 (Blank) | 1 |
| 30436-0 | Black | 01 (Blank) | 3 |
Tough Nylon Material
| | |
| --- | --- |
| Base Part # | Color |
| 49005-1 | Black |
| 49005-2 | Red |
| 69005-1 | Black |
| 69005-2 | Red |
Choice of Core Type:
HP Core – polymer coated 1 x 7 / Solid .075 stainless steel core
Order Handle / Knob separatelt – Non-metallic liners
3.0
(76.2)
4.50
(114.3)
5.0
(127.0)
5.0
(127.0)
6.50
(165.1)
8.00
(203.2)
Choice of Core Type:
HP Core – polymer coated 1 x 7 / Solid .075 stainless steel core
Travel
DIM "AA"
Bulkhead End
Clamp End
Operating Loads
Inch/(MM)
Inch/(MM)
DIM "A"
Inch/(MM)
DIM "B"
Inch/(MM)
DIM "C"
Inch/(MM)
DIM "D"
Inch/(MM)
Push
Lbs./(N)
Pull
Lbs./(N)
1.0
(25.4)
4.50
(114.3)
3.00
(76.2)
4.94
(125.5)
2.31
(58.7)
4.25
(108.0)
60
(27.2)
60
(27.2)
2.0
(50.8)
4.50
(114.3)
4.00
(101.6)
6.94
(176.3)
3.31
(84.1)
6.25
(158.8)
60
(27.2)
60
(27.2)
3.0
(76.2)
4.50
(114.3)
5.00
(127.0)
8.94
(227.1)
4.31
(109.5)
8.25
(209.6)
50
(22.7)
60
(27.2)
4.0
(101.6)
6.50
(165.1)
6.00
(152.4)
10.94
(277.9)
5.31
(134.9)
10.25
(260.4)
40
(18.1)
60
(27.2)
5.0
(127.0)
6.50
(165.1)
7.00
(177.8)
12.94
(328.7)
6.31
(160.3)
12.25
(311.2)
30
(13.6)
60
(27.2)
HP Core 1/4″ – 28 Threaded Rod (output end)
Travel
DIM "AA"
Bulkhead End
Clamp End
Operating Loads
Inch/(MM)
Inch/(MM)
DIM "A"
Inch/(MM)
DIM "B"
Inch/(MM)
DIM "C"
Inch/(MM)
DIM "D"
Inch/(MM)
Push
Lbs./(N)
Pull
Lbs./(N)
1.0
(25.4)
5.19
(131.8)
3.13
(79.5)
5.19
(131.8)
2.50
(63.5)
4.56
(115.8)
120
(54.4)
120
(54.4)
2.0
(50.8)
5.19
(131.8)
4.13
(104.9)
7.19
(182.6)
3.50
(88.9)
6.56
(166.6)
120
(54.4)
120
(54.4)
3.0
(76.2)
5.19
(131.8)
5.13
(130.3)
9.19
(233.4)
4.50
(114.3)
8.56
(217.4)
100
(45.4)
120
(54.4)
4.0
(101.6)
7.19
(182.6)
6.13
(155.7)
11.19
(284.2)
5.50
(139.7)
10.56
(268.2)
80
(36.3)
120
(54.4)
5.0
(127.0)
7.19
(182.6)
7.13
(1181.1)
13.19
(335.0)
6.50
(165.1)
12.56
(319.0)
60
(27.2)
120
(54.4)
HP Core 5/16″ – 24 Thread (output end)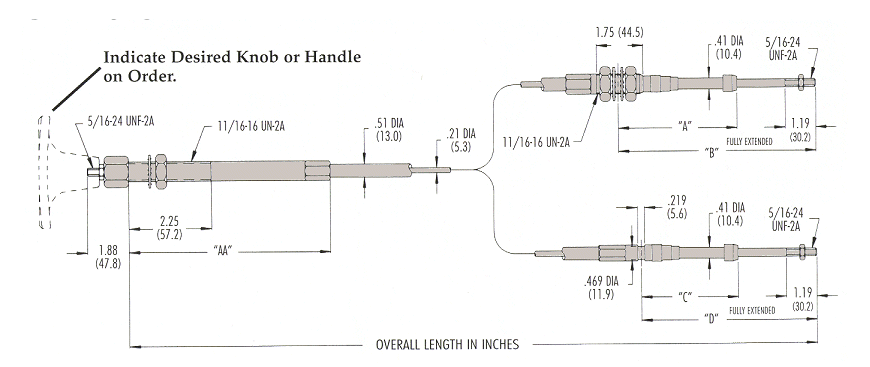 Travel
DIM "AA"
Bulkhead End
Clamp End
Operating Loads
Inch/(MM)
Inch/(MM)
DIM "A"
Inch/(MM)
DIM "B"
Inch/(MM)
DIM "C"
Inch/(MM)
DIM "D"
Inch/(MM)
Push
Lbs./(N)
Pull
Lbs./(N)
1.0
(25.4)
5.19
(131.8)
3.25
(82.6)
5.50
(139.7)
2.56
(65.0)
4.81
(122.2)
225
(102.1)
225
(102.1)
2.0
(50.8)
5.19
(131.8)
4.25
(108.0)
7.50
(190.5)
3.56
(90.4)
6.81
(173.0)
225
(102.1)
225
(102.1)
3.0
(76.2)
5.19
(131.8)
5.25
(133.4)
9.50
(241.3)
4.56
(115.8)
8.81
(223.8)
200
(90.7)
225
(102.1)
4.0
(101.6)
7.19
(182.6)
6.25
(158.8)
11.50
(292.1)
5.56
(141.2)
10.81
(274.6)
175
(79.4)
225
(102.1)
5.0
(127.0)
7.19
(182.6)
7.25
(184.2)
13.50
(342.9)
6.56
(166.6)
12.81
(352.4)
150
(68.0)
225
(102.1)